Running is undoubtedly one of the best cardio exercises not only for weight loss but it also to improves heart health and longevity.
According to a medical research, it is found that comfort and fit are two most important factors to look for while buying a pair of good running shoes since they help minimize the risk of injury.
And, for this special reason, experts suggest getting the best shoes for running, especially on the Indian roads or even while running on the treadmill for that matter.
Why Do You Need Running Shoes?
While running on the ground or treadmill, we land on our heel, shuffle the foot from heel to toe and then toe-off.
This is referred to as 'running gait'.
And, as you run, you're putting between 1 ½ to 3 times your body weight on your foot, which can result in a greater risk of injury at times.
Fortunately, when you wear a good running shoe with proper cushioning, you'll be able to reduce the sudden shock to your feet.
These shoes are designed in a way to handle different activities like running, jumping and even your favorite sports like cricket.
So, in this article, I have decided to review the best running shoes in India catered to men that also look stylish.
Best Budget Running Shoes for Men in India
| Best Shoes for Running | Our Review |
| --- | --- |
| 1.Under Armour Men's Running Shoes | Overall The Best Running Shoe for Men; Extremely Lightweight |
| 2.Reebok Flyer Run Lp Running Shoes | Runner Up; Best under 3000 |
| 3.Adidas Men's Drogo M Running Shoes | Premium Quality Shoes with Cushioning & Mesh |
| 4.Puma Men's Enzo Mesh Running Shoes | Most Stylish Shoes for Running |
| 5.Skechers Men's Running Shoes | Best Lightweight Shoes in the Budget |
| 6.Nike Downshifter 7 Running Shoes | Suitable for People with Wide Feet |
| 7.ASICS Gel-Moya Running Shoes | Can also be Paired with Casual Outfits |
| 8.Fila Ruceb Running Shoes | Best under 2000 |
| 9.Campus Men's Running Shoes | Best Dual Purpose Shoes; Running/Casual |
| 10.Sparx Men's Running Shoes | Best under 1000 |
Reviews of Best Men's Running Shoes India
1.Under Armour Men's Running Shoes
Under Armour is a premium sports apparel brand that is popular for their high quality running shoes with best in class performance.
Thanks to the molded micro G sockliner, you get the best cushioning and fit.
The shoe comes with dual-layer charged cushioning midsole and rubber outsole, which gives extra flexibility and amazing grip support.
The heavy wear areas of the sole are made of high-abrasion rubber to make them durable and long lasting.
They are also the extremely lightweight running shoes in the list (283 grams).
These are available in 5 color choices – Black, Black (008)/High-vis Yellow, Steel (103)/Overcast Gray, Black (007)/Pitch Gray and Black (007).
2.Reebok Men's Flyer Run Lp Running Shoes
Reebok is the name that comes to everyone's mind when it comes to shoes, especially if you talk about running.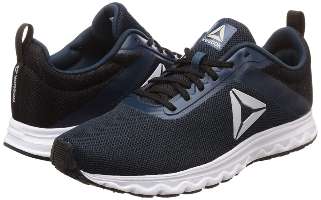 The Flyer Run Lp from Reebok is one of the best running shoes under Rs.3000 in India.
They not only look stylish but are also comfortable to wear.
These Reebok shoes are made using the best quality synthetic material coupled with a soft cushion padding to protect your feet from sudden shocks.
These Reebok running shoes for men weigh around 740 grams.
You also get up to 90 days of warranty against any manufacturing defects.
3.Adidas Men's Drogo M Running Shoes
Adidas is another famous sports apparel brand that has a huge craze among the youngsters.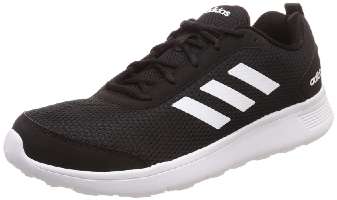 The Drogo M shoes come with built-in synthetic mesh on the top side for breathability.
The inner midsole is embedded with ADIPRENE Spring Bounce to give amazing cushioning affect and flexibility to the shoes.
The shoes are available in almost 7 different colors and you can choose the one that matches your style.
These Adidas shoes weigh around 630 grams and come with lace-up closure type.
Warranty: up to 90 days on any manufacturing defects
Price: 2000 to 3000
If you're on a tight budget but like the ADIDAS brand, then you can go with the
Adidas CM5865 running shoe
that is priced under 2000.
4.Puma Men's Enzo Mesh Running Shoes
Puma is one the top brands when it comes to shoes and they're known for making high quality sportswear according to the latest trend.
These are also one of the best running shoes under 4000 price range.
The shoes look stylish and modern, thanks to the premium quality mesh and the unique color (Olive Night-Puma White).
Both the inner and outer soles are made of premium rubber that provides comfort as well flexibility.
The Enzo mesh running shoes from Puma are also suitable for use in dry and light wet conditions.
However, you should avoid them on muddy roads or during the heavy rains as they can get damaged.
The shoes weigh around 650 grams.
Warranty: You also get a 90 day warranty on the shoes in case you find any manufacturing defect.
5.Skechers Men's Running Shoes
Skechers is the 3rd largest American footwear company which makes superior quality products and they're also sold in India.
They are well popular for their shoe varieties catered to youngsters like sneakers, sports shoes, running shoes etc…
Skechers uses advanced mesh technology in order to make the shoes breathable.
These shoes also come with an ultra-soft memory foam that gives amazing cushioning for your foot while running.
Since the shoes are a 1-piece construction without any unwanted layers, their performance is doubled.
These are also one of the best lightweight running shoes at around 255 grams.
Warranty: 90 days or 3 months on manufacturing defects
6.Nike Men's Downshifter 7 Running Shoes
Nike shoes are very popular in the casual shoe segment.
Fortunately, they have also launched budget friendly running shoes with amazing built quality.
The Downshifter 7 comes with a single-layer mesh for breathability.
They have added a soft foam midsole inside to provide you comfort while running.
Whereas the outer sole is made from durable rubber material.
These shoes are available in 5 different colors – Mega Blue, Dark Grey, Black/White, Stealth and D.gry/T.Crmsn-Anth-Blk.
These are one of the lightweight running shoes that weigh around 340 grams.
These Nike shoes are ideal for both running and jogging.
Price: Rs.2500 to Rs.4000 (depending the color & size)
7.ASICS Men's Gel-Moya Running Shoes
ASICS is a popular Japanese footwear and sports equipment brand that makes one of the best quality running shoes for men in India.
On the front of the shoe is a high-quality synthetic mesh that makes it breathable as well as lightweight.
The outer sole is made of EVA material that provides flexibility and good grip on the ground.
These shoes are available in 3 color choices out of which the Carbon/Classic Red is my favorite one.
The weight of the shoes is around 670 grams, which is good for regular runners.
Price: under 3500 to 5000 (based on the size & color choice)
Warranty: 90 days
8.Red Tape Men's Running Shoes
These Red Tape shoes are one of the best budget shoes for running with premium looks and quality.
There is a soft overlay on the front for additional durability and the insole has foam cushion to prevent shocks (injury) while running.
The outer sole is made of EVA (Ethylene-Vinyl Acetate) that gives amazing grip to the shoe.
These are available in 3 colors – Burgundy, Black and Blue.
They weigh around 800 grams and you can wear them with your favorite casual outfits.
Price: 1500 to 4000 (depending on the size and color)
Warranty: 90 days or 3 months on any manufacturing defects
9.Fila Men's Ruceb Running Shoes
Fila Ruceb is one of the best shoes for running in India under 2000.
Their shoes are made of classy fabric material that provide flexibility and good grip.
The outer surface is covered completely with soft mesh fabric, thus giving it a premium look.
It is also easy to clean and maintain.
There is also a round toe on the front side that prevents any injury to your toes when you hit any hard surfaces.
It weighs around 810 grams.
Warranty: 90 days
10.Campus Men's Running Shoes
The Campus is another well-known footwear brand.
Their shoes are usually priced as per the liking of the budget enthusiasts, without compromising on the quality.
The sole is made of rubber and there is high cushioning support inside so that you don't feel the sudden shock while running.
The soft Phylon outer sole provides good flexibility to the shoe.
They are also available in 9 attractive colors and sizes so that you can prefer the one that matches your style and liking.
You can wear these shoes not just for running but also for any casual occasion.
These shoes weigh around 800 grams.
Warranty: 30 days on manufacturing defects
Price: under 2000
11.Sparx Men's Running Shoes
These are the best running shoes for men under 1000.
Sparx is a widely popular brand in India, mainly in the budget footwear segment.
Their products are of decent quality and can also long with proper maintenance.
These Sparx shoes come with synthetic mesh material on the top for breathability, while the sole is made of PVC material.
There is a cushion rolled collar to provide additional comfort around your ankle.
The outer sole is made using rubber to provide resistance and flexibility.
You can use these shoes even with your casual outfits as they match your style.
Warranty: 1 month or 30 days on any defects
Buying Guide – Best Running Shoes for Men
There are a few factors you need to consider while buying the best shoes for running in India.
1.Decide Your Main Objective
For what purpose are you buying the shoe for? Running or just Strength Training.
This is very important, because not all sports shoes are good for running.
If you just wanted the shoes for use in your gym where you lift heavy weights and stuff, then you can just go with the regular sports shoes.
But, if running is your purpose, whether it is simple running, running on a track or treadmill machine, then you'll need to buy running shoes exclusively.
2.Running Shoe Size
Don't go by the word – One thing fits all.
The size of the shoe varies from one brand to another and sometimes one model to another.
So, it is highly recommended to choose the correct size that fits your foot.
While checking, make sure that you can freely move your toes as you wear the shoes.
3.Weight of the Running Shoes
Wearing running shoes that are heavy in weight will become an obstacle while running or jogging.
And, if you're the one who usually carries your running shoes to the joggers park and wears them at the spot, then you'll find the lightweight running shoes much better.
As a rule of thumb, always go with shoes that are lightweight.
4.Cushioning of the Running Shoes
You can find hundreds of running shoes in the market that are priced cheap.
But, you should remember that they do not have proper cushioning or flexibility, which are a must for a good running shoe.
So, always go with the branded shoemakers like Adidas, Reebok, Puma, Under Armor etc…that come with cushioning, good grip, soft heel and ankle support.
Though they cost a little high, you'll definitely get benefited from their quality in the long run.
5.Running Shoe Prices in India
A good branded running shoe price starts from Rs.2000 and goes upwards up to Rs.10000, depending on the brand and comfort levels.
You should always choose the one that fits your foot perfectly, based on your budget.
FAQs – Men's Running Shoes
How long does the running shoes last before replacing them?
The longevity of the running shoes depend on the frequency of your usage.

Like any product, you should replace your shoes when you notice any signs of wear and tear or if the sole is coming off.

As a rule of thumb, you should replace your running shoes every 500 to 700 kilometers. This comes down to 4 to 6 months, if you run 5 kilometers every day.
Why does my feet hurt after running?
There is a part along the bottom of our foot called 'Plantar Fascia Tendon'. If you run excessively, this tendon is put under more stress and thus starts to cause pain.

However, in some cases, the pain may be due to the wrong shoe type.
Is it Ok to wear my running shoes all the time (everyday use)?
Since the running shoes are a bit costly and can break down over time, it is not recommended to wear them when you're not running.

You should use those shoes for running only and not as your daily wear.
Can I walk using my running shoes?
Of-course, you can either walk, jog or run while wearing your running shoes. They're designed for just that purpose.
Does the running surface affect the wear down of the shoes?
Yes! The running surface is one of many factors that is responsible for the wear down of your shoes.

It is noticed that those who run on the regular roads have found their shoes torn out quicker than those running on the trails.

The other factors that affect the shoe wear down include the person's body weight, his running style, frequency of use, maintenance etc…
Conclusion:
Everyone knows they should wear a shoe while running.
At the same time it is also important to wear the right shoe with good cushioning, fit and ground grip as it helps prevent any injuries to your feet and joints.
Hope our list of the best running shoes for men in India comes handy in choosing the correct shoe type for your needs and budget preference.