The Resistance bands are lightweight, portable and can be stored in your gym bag, thus making them an ideal choice for those who wanted to practice strength training anytime, anywhere.
People who don't have a gym membership may also try the resistance band workouts at home to burn a lot of calories, tone your muscles and lose weight as well.
You can actually use them for overall body strengthening without any additional weights.
They're also affordable, low-impact and joint-friendly.
Even the top celebrities like Virat Kohli, Shikhar Dhawan and Hardik Pandya are using these resistance bands to stay in shape while traveling around the world for Cricket tournaments.
What are Resistance Bands?
They are strong elastic bands (stretchable) with handles at both the ends for grip.
As the name suggests, they work by providing resistance against the direction in which you apply force.
You can stimulate your muscles and bone as well, which is not possible when you use weights to perform your workouts.
Before the celebrities made them popular, these resistance bands are actually used in injury rehabilitation centers because of their ability to built joint flexibility, strength and help with muscle trembling.
These workout bands aka resistance bands come in different lengths, strengths and sizes to suit your needs.
You can choose the one depending on your fitness expertise and requirements.
Benefits of Resistance Bands
These are many advantages and health benefits of using the resistance bands in our daily workout routine.
Portable & Lightweight: They are lightweight and easy to carry in your laptop bag or gym bag.
Strength Training: Unlike the weights that offer constant resistance, these resistance bands provide you ascending resistance. Thus, they increase your overall strength in addition to preventing injuries.
Easy on the Joints: Since these bands are not gravity-dependent, you don't harm your joints while performing the workouts.
Full Body Workout Equipment: Unlike weight training, which focuses on specific muscle groups, these bands stabilize your entire core, thus offering full body workout without weights.
Super Affordable: The resistance bands, besides offering portability, are priced much lower when compared to physical workout equipment like dumbbells, weights, gym machines etc…
Points to Remember
One-Size doesn't fit all: As we said earlier, you need to make sure that the length and strength (tension) of the band suits your fitness requirements. It varies from one individual to another.
Not recommended for body builders: These are not ideal for bodybuilders whose sole goal is to gain muscles.
Not compatible with compound exercises: You cannot use these resistance bands while performing the compound exercises like squats, dead lifts, bench presses etc…as they train multiple muscle groups and hence should be done separately.
List of Best Resistance Bands for Workout in India 2021
1.Spinway Latex Training Exercise Band
If you're looking to tone/strengthen multiple muscle groups with a single workout accessory, then this premium exercise band is just for you.
It helps with your back exercises, squats, pull ups and more…
Flexi cord is provided for better strength and you also have the handles on both the sides for better grip.
The band can be easily carried with you anywhere in your laptop bag or gym bag.
Try to get the heaviest resistance band for best results.
2.SLOVIC Resistance Band/Pull Up Band
This SLOVIC band is the heaviest band that is suitable for performing pull us or calisthenics.
It provides ~50 kgs of force, which is enough for doing pull ups by overweight people.
These resistance bands do not come with grip handles but you get a door anchor using which you can do back and core exercises easily.
You also get a free booklet of 30 Resistance band workouts, performed using this model.
It is available in 3 different variants – Red (15 to 35 lbs), Black (30 – 75 lbs) and Orange (75 to 105 lbs).
Pick the Orange band. Though it feels rigid initially, you'll get ample strength after a few sessions.
3.Reebok Heavy Resistance Tube, Free Size
Reebok is a well-known brand when it comes to sports and fitness accessories.
This free-size resistance tube comes with a premium build quality, suitable for heavier strength training workouts.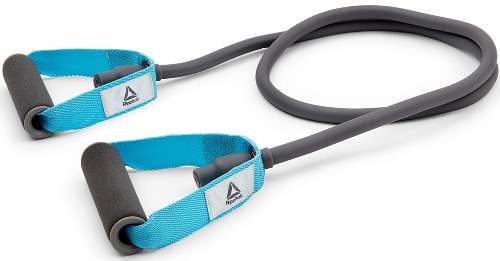 It comes with soft-grip handles for better support.
These fitness resistance tubes help in strengthening and toning multiple muscle groups.
The tube is available in 3 levels – Light, Medium and Heavy.
You can choose the one based on your fitness level.
4.Bodylastics Dual Layer Resistance Loop Bands
This resistance band from Bodylastics is aimed at providing pull up assistance, Yoga, Pilates and warm up.
It is made from natural latex material that is safe to the environment.
You also get a door anchor along with the band. You can perform back workouts, neck exercises etc…
You can use this bands in resistance training for flexibility, physical therapy and rehab.
The size of the resistance band comes in 41 inches length, 4.5 Centimeters thickness and the width varies for each band.
Get the heaviest resistance band if you use it mainly for assisted pull ups.
5.Fitlastics Resistance Bands for Squats, Hips & Glutes
If you're looking for a loop band set for performing heavy workouts like squats, hips and glutes, then the Fitlastics resistance loop bands are just for you.
The set comes with 4 bands that can be used for performing various strength training workouts – Light, Medium, Heavy and X-Heavy.
These are made from 100% natural latex and they are durable, elastic and completely odor free.
You'll also be getting free workout guides and also includes a travel bag.
Get these bands to support your muscles while performing heavy squats or other workouts.
6.AmazonBasics Latex Resistance Bands
AmazonBasics is known for their quality products with affordable price tag.
These resistance bands are made from 100% natural latex with a slip-free surface.
It is lightweight and can easily fit in to your pocket, gym bag or desk drawer.
You get 5 resistance bands with different sizes and strengths to perform various strength training workouts.
You also get 1 year limited warranty on these bands.
Choose between 600 mm and 1500 mm based on your requirements and fitness levels.
7.JoyFit Resistance Tube with Door Anchor
The JoyFit toning tube comes with a door anchor and is suitable for 5 resistance band levels, all of 4 foot length.
Yello (3 to 5 kg)
Red (5 to 7 kg)
Blue (7 to 10 kg)
Green (10 to 12 kg)
Black (12 to 14 kg)
It is made from 100% Eco-friendly material free from latex.
The double layer end sleeves provide longer life to the band.
It is ideal for both men and women.
These bands are ideal for Cross fit training, Yoga, Pilates, p90x, insanity, beach body, upper and lower body.
You can also target your glutes, legs, hips and knee muscle groups.
There is also a 30-day replacement guarantee in case if your band is not up to the mark.
Get the heaviest resistance tube for best workout results.
30 Minute Full Body Resistance Band Workout
Frequently Asked Questions
1.Can I replace gym exercises with a personal resistance band?
Resistance bands help you in assisting with various pulling and pushing exercises. But, it doesn't mean you can just rely completely on them for building muscles.

They can be an alternative in situations when you don't have access to the gym center, like while you're traveling or the current situations like the countrywide lock down.

However, if you're a beginner with main goal to improve flexibility and muscle strength at home, then it is just for you.
2.What type of resistance band do I need to buy?
When you're a beginner, try to get the resistance band with handles (grip support). And, as you go further(advanced), you can try the loop bands with door anchors, straps etc…
3.How can I get ripped without resistance bands?
The traditional weights like dumbbells, pull up bars etc…will help you gain muscles faster when compared with resistance bands.
4.What exercises can I perform with resistance bands?
You can perform a variety of exercises like pull ups, push ups, core exercises, squats, overhead press, chest flyes and more… It depends on how you use your creativity.
5.What color resistance band has got more intensity?
In India, either the Black or Grey colored resistance band has got the most resistance power.
6.How long does a resistance band last?
If you use them on a regular basis with proper care, then they will last anywhere from 1 to 3 years, depending on the brand.
7.How to pick the strongest resistance band in India?
As a thumb rule, the resistance band colors determine the strength as below:

Yellow = lightest (2 kg)
Blue = Light strength (3 kg)
Green = Medium strength (7.5 kg)
Black = Heavy Strength (10 kg)
Red = Strongest (15 kg)
8.How much weight does a resistance band add?
If you are using the strongest resistance band (Black), then it can add 9 to 15 kg of pull strength.
Lastly, do remember that the resistance bands are not a replacement to strength training, but only an alternative workout equipment in case if you're out of town for business meetings or traveling.