A full body massage helps in getting rid of all the stress after a full day of hectic work, Isn't it?
But, visiting a massage spa regularly can be time consuming and also not cost-efficient.
And, that is where the zero-gravity massage chairs comes handy.
The massage chair comprises air bags (expands and decompresses) and/or rollers (move in all directions) in order to improve the blood circulation in your body and also relax the muscles.
Every body massage machine chair comes with advanced programs like kneading, tapping etc… that mimic the real-time professional massage therapy.
However, since the massage chairs are quite expensive, it is therefore recommended to know the basic factors/features before actually deciding the best massage chair in India.
Please read the Massage Chair Buying Guide and FAQs.
If you don't have time, then we've compiled the list of the best zero gravity massage chairs in India, after thoroughly reviewing different electric massage chairs in the market from all the top brands.
Best Full Body Massage Chairs in India
Listed below are the best massage recliner chairs in India for full body with zero-gravity space saving design.
| Top Massage Chair Brands | Top Features | Our Rating |
| --- | --- | --- |
| 1.JSB MZ21 4D Massage Chair | 4D Technology with L Track Massage, Neck to Foot Massagers with Back Heating | Overall Best Zero Gravity Massage Machine |
| 2.JSB MZ24 3D Massage Chair | Zero gravity recliner, 3D Rollers from Neck to Buttocks, Calf Rubbing & Nodal Acupressure Massage | Best for Lower Back Pain |
| 3.JSB MZ16 Full Body Massage Chair | Heat therapy, Spot massage, Treats Chronic Issues | Best head to toe massage chair |
| 4.Robotouch Urban Pro Body Massager Chair | Zero gravity massage, Carbon fiber heating for lower back, Body scan sensors | Best for Relaxing |
| 5.JSB MZ30 Massage Chair for Home | Thermal therapy, Multiple air bags, Extendable footrest, Foot roller | Best Features at Medium Budget |
| 6.Robotouch Relaxo Pro Massage Sofa | Compact design, Basic massage functions, 5 massage simulation techniques | Very Budget-Friendly |
| 7.Lifelong Full Body Massage Chair | powerful 3D back and leg massage, Bluetooth speakers, various massage styling techniques | Cheapest Recliner with Massage Options |
Note: If you don't have enough budget, you can also go for the handheld massager.
How Does a Massage Chair Work?
The working of a massage chair varies according to the chair type – Vibrating chair or Roller massage chair or airbag massage chair.
So, let us see the working of these massage recliners individually.
1.Vibrating Massage Chairs:
They come with motors that generate vibrations, which are then transferred to the different parts of your body.
These are usually the most affordable of all the types and also help you get relief from stress and muscle tension.
2.Roller Massage Chairs:
They come with rollers that are aligned behind the lining of the chair.
These rollers roll over your entire body from top to bottom by exerting gentle pressure, inspired by how a masseuse does, and help you get relief from tension and stress built up in your muscles.
Some latest models also come with heated rollers, which are a bit expensive, but give your advanced massage.
3.Airbag Massage Chairs:
These are the most advanced massage chairs of all that come with expandable airbags embedded inside the cushion.
They work continuously to relax your muscle strain and at the same time help improve your blood circulation, which is vital for proper functioning of the organs.
Which Massage Chair is Best for You?
If you're extremely tight on budget, then you can go with the vibration chairs with basic options.
If you can afford a bit more and wanted to experience the feeling of a hand massage, then go for the roller massage chairs with heated roller option.
And, if you have any existing health issues or a injured person, then you should go with the airbag massage chairs that are known to improve blood circulation.
Hope you have understood how the different types of massage chairs work.
Now, let us head to the review part.
Best Massage Chair Brands in India
1. JSB MZ21 4D Zero Gravity Massage Chair for Home
The JSB MZ21 is the best-rated full body massage chair in India for stress relief.
The 4D technology with soft rollers (L Track) helps relaxing the back and hip muscles.
There are nearly 79 air bags and soft rollers for neck, back, shoulders, hands, calves and hips massage along with back heating pads.
The zero gravity space saving design helps provide better massage experience.
There are 6 different massage styles which include kneading, tapping, shiatsu, knock, rubbing and vibration.
The 3D kneading and rubbing on the calf helps in improving the blood circulation in foot soles and calves.
The stretching massage option helps in relieving tired muscles and relaxes your entire body in just a few minutes.
The user can even adjust the shoulder & height according to their requirement, thanks to the largest roller reach option.
So, it is the best body massage chair for short people.
There are also special features like voice recognition, wireless remote, quick access remote and Bluetooth connectivity for music.
The manufacturer provides a 1 year onsite doorstep warranty.
Price: under Rs.300000
2. JSB MZ24 3D Zero Gravity Massage Chair
The JSB MZ24 is our next best zero gravity massage chair in India with Bluetooth music connect, dedicated foot & calf massage along with heat therapy option.
The 3D long reaching rollers from neck to buttocks with zero gravity recliner provide an amazing massage experience for the user.
You can also adjust the shoulder roller according to your width.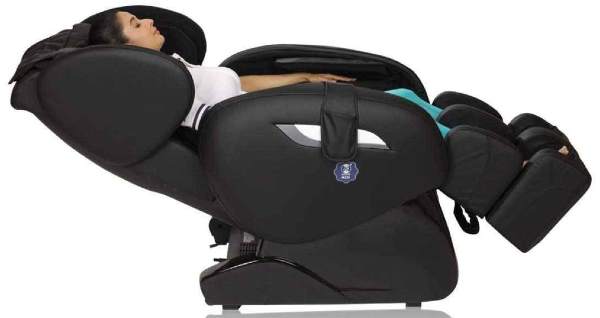 There are different air bags for the shoulder, arms, calves and foot.
It comes with a combination of various massage techniques like rubbing, shiatsu, knock, vibration, kneading and tapping.
There are 12 auto modes that can be used according to your personal requirement.
The chair comes with a specialized body scanner to customize the massage experience based on your spine length, which is an amazing feature.
You can also adjust the chair according to your height, which is a blessing for short people.
You can control the device either through the remote control or voice command.
Thanks to Bluetooth connectivity, you can listen to your favorite music while getting a massage.
The JSB healthcare provides a 1 year on site doorstep warranty.
Price: under Rs.3,00,000/-
3. JSB MZ16 Full Body Massage Chair for Home and Office
The JSB MZ16 is the best full body massage chair under 2 lakhs price range in India.
It comes with solid features, great build quality and amazing massage experience.
The chair comes with 6 different massage styles including tapping, kneading, shiatsu massage, knocking, kneading+tapping and airbag compress.
While some styles focus on treating chronic pain issues, the others provide great relief from stress and anxiety.
There is also the spot massage program setting that targets certain muscles and treats stiffness in the joints.
Shiatsu massage combined with zero-gravity massage is excellent, especially for gym-goers and hard working people.
There are 5 auto-modes such as ache relief, comfort, relax, upper and lower body massage options.
There is also a remote control you can use to control the intensity of the massage any time.
The heating pads provide heat therapy in the back.
The rollers adjust according to your height and provide customized massage to anyone. It is the best massage chair for tall person.
The massage chair looks elegant and stylish, thus it can be placed anywhere in the living room.
The JSB MZ16 massage chair supports up to 110 kg of weight and comes with 1 year of comprehensive warranty.
Price: under Rs.2,00,000/-
4. Robotouch Urban Pro Full Body Massage Chair
The next model in our list of the best massage chairs in India is the Robotouch Urban Pro.
The chair comes with heat pads that automatically emit heat from the carbon fibres at the back of the chair, thus promoting blood circulation and relieves any pain or muscle stiffness in your back or hips.
The airbags on shoulders, arms, hands, calves and feet help in giving amazing throughout body massages.
You get 6 various massage modes including kneading, shiatsu, tapping, flapping, rolling and knocking from neck to soles for ultimate relaxation.
There are also built-in auto modes like ache relief, comfort, relax, upper and lower body massages that adjust the pressure points at certain areas to give you a perfect massage.
The Robotouch massage chair makes very less noise and is also easy to transfer from one room to another using the wheels.
The SL Track mechanism allows longer rail for maximum comfort.
The Robotouch electric massage chair comes with a 1 year brand warranty, free installation and demo.
Price: under Rs.1,50,000/-
5. JSB MZ30 Massage Chair for Home Full Body Relief from Stress
The JSB MZ30 is one of the best compact massage chairs for full body stress relief.
It comes with 8 dedicated rollers for neck and back massage along with multiple air bags for shoulder, arms, thighs, calves and feet.
The ankle and foot roller massager helps cure your leg pains while the heat pads relax your lower back.
You can also get relief from muscle stiffness using the stretch massages.
You have 3 auto modes to select for different body parts and the footrest can be expended according to the user height.
This zero gravity massage chair helps you achieve better relaxation at ease.
The product comes with a 1 year manufacturer warranty.
Price: under Rs.1,20,000/-
6. Robotouch Relaxo Pro Massage Sofa With Foldable Footrest
The Robotouch Relaxo Pro is actually the best budget massage chair in India with foldable footrests.
The chair was designed with 2 sets of mechanical hands for massaging.
While 1 set is designed for neck massage, the 2nd set has four-wheel drive and supports the back.
There are 5 massage simulation techniques – kneading, tapping, sync with kneading and tapping, knocking and shiatsu.
It also comes with 3 auto modes – full body care, neck & shoulder care, back & waist stretch.
You can adjust the speed settings and intensity according to your liking.
There are also the airbags that massage your legs and hips with two intensities.
You can connect any Bluetooth devices to the massage machine and play the music while relaxing on the chair.
Apart from two 3D digital audio speakers on both sides of the sofa, you also have the mobile USB charger built-in.
This compact massage chair sofa comes with a full year of warranty.
Price: under Rs.85,000/-
7. Lifelong Full Body Massage Chair with Recliner
This is the only best full body massage chair under Rs.50000 price range..
This massage recliner chair is equipped with a powerful 3D back and leg massage option along with head and buttocks massage.
It offers full body coverage with various massage styling techniques like kneading, tapping, shiatsu, knocking and air squeeze.
The recliner helps in stretching your entire body and provides relief to your muscles from tiredness.
Bluetooth speakers are provided built-in with the chair and you can enjoy your favorite music while getting a massage.
The digital panel is attached to the seat handle using which you can control the speed, intensity of the rollers.
This budget massage chair comes with a 1 year manufacturer warranty along with a 6 month extended warranty up on registering on the company's website.
Price: under Rs.40,000/-
Best Massage Chair Buying Guide
The full body massage chairs are quite expensive and hence investing in the wrong product can make a huge dent in your pocket.
In this article, we've listed all the important features you need to consider before buying the best massage recliner chair in India.
1.What is your Chair Size Requirement?
Most massage chairs come in bulkier sizes and take up a lot of space.
So, carefully check the product description for the actual dimensions of the chair and how much space you can allocate at your home.
Normally, a massage chair needs 18 to 24 inches clearance from the back to the adjacent wall for the recliner to expand completely.
2.How Much Does the Massage Chair Weigh?
Generally, the massager chairs are heavy in weight and can usually weigh around 20 kgs to 50 kgs or sometimes even more.
It is also advised to check the height and weight limitations of the chair before actually purchasing it.
Do note that some massage chairs are only suitable for tall people.
3.Which Type of Massage Chair Suits You?
There are mainly 5 different types of massage chairs and each type has its own set of pros and cons.
A] Zero Gravity Massage Chairs
These are the high-end massage chair models and are usually the most expensive of all the types.
Your body will be reclined in a particular (fixed) position without putting any weight (zero gravity space feeling) to your body.
Since the vertebrate is relaxed in this position, you'll thoroughly enjoy the massage experience.
Your legs and heart are aligned at the same height, thus your heart won't have to push hard to provide blood circulation to your legs.
There are some massage chairs that come with multiple zero-gravity positions that provide a better massage experience.
B] Recliner Massage Chairs
The Recliners are the lower-end version of the Zero-gravity massagers with the only difference that your body weight is not completely supported by the chair.
Since the legs and heart will not be at similar height, you'll miss the benefits of the zero-gravity chair.
These recliner chairs are best for relaxing and suitable for use while watching your favorite TV shows or reading books.
C] Full Body Massage Chairs
The full body massage chairs relax your entire body starting from neck to the legs.
They are usually expensive as they come with programmed style settings that mimic a professional masseur hands.
D] Ottoman Massage Chair
It looks quite similar to your regular chair but comes with a footstool and delivers amazing stress relief.
E] Massage Seat Pad
If you don't have enough budget but want to get relief from the stress, then you can simply purchase these seat pads that can be placed on the regular chair or bed.
4.Does it Support Variety of Massage Styles?
There are different massage styles that mimic the professional massage therapists and each style concentrates on different parts of your body to provide relief.
So, make sure your chair has all the required massage styles before making the purchase.
Here are the some common massaging styles in a massage chair:
A] Tapping
The tapping is the most traditional form of massage that the professionals use in order to stimulate the muscles.
The rollers will move around your back and mimic the striking and pounding movement of the fist.
Some massager machines also make use of the air bags by inflating and deflating them to provide blood circulation to different parts of the body.
B] Kneading
In this kneading technique, the airbags are inflated and deflated to apply pressure in a circular motion.
It will help compress the soft tissues and help in increasing the flexibility, cure tight muscles and pain relief.
C] Shiatsu
This traditional shiatsu massage is well-known for restoring the energy flow in the body by reducing stress, tension and pain.
In this technique, the pressure is applied in specific parts (stress points) on your back slow and steady.
D] Rolling
This rolling technique is helpful for treating loose skin and relieving muscular tension.
The rollers and air bags mimic the traditional rolling massage where the skin is lifted and rolled between the thumb and other fingers.
E] Advanced Styles
There are some high-end zero gravity massage chairs that come with advanced massage styles like spinal relief, muscle stretch, heated massage, yoga reflexology, acupressure points etc…
So, if you've enough budget, we suggest you go with a massage chair with a maximum number of massage styles.
5.Which Roller Track to Choose?
Roller tracks contain a series of round balls that move in multiple directions to mimic the touch of a professional masseur hand.
There are two types of roller tracks such as:
A] S-Track
Most massage chairs come with the S-Track rollers. As the name implies, the rollers move in the shape of 'S' and is ideal for people suffering with back pain.
They cover your muscles from neck to tailbone.
B] L-Track
These are an extension of S-Track rollers and will massage your glutes and back of the thighs.
The L-Track rollers are perfect for people with lower back pain, leg pains and soreness in thighs etc…
6.What Parts of the Body Does it Massage?
People with different medical issues will need massage for certain parts of the body.
Here are the different massager parts that should be considered while purchasing the best full body massage chair in India.
Head Massager: For people dealing with migraines and headaches.
Neck Massager: For treating stress and neck pain.
Arm Massager: For providing relaxation to the arms after a heavy workout session or full day of computer work.
Hip Massager: For providing pain relief in the spine area.
Foot Massager: For people who usually stand more or travel frequently.
7.Does it Come with Pre-Built Program Settings?
Most electric massage chair machines come with pre-defined programs that are designed to provide better massage experience to the users without worrying too much about the settings.
However, if you have some knowledge, you can set up your own settings using the manual control option.
In the manual settings, you can adjust the speed or intensity of the massage and also choose the massage style depending on your requirement.
There is also the Auto-shut down option that when set will stop the massaging after a certain period of time.
8.Any Entertainment & Connectivity Features?
Apart from getting relaxed, the massage chair manufacturers also provide different entertainment features along with connectivity options like
Remote control – Increase/decrease the intensity, speed and turn on/off the machine.
USB port – Connect and charge your mobile device
MP3 Player – Listen to songs while getting a massage.
Bluetooth Compatibility – Sync your Smartphone or Music system with the massage chair and access your favorite songs or podcasts directly from the built-in speakers.
9.General Factors to Consider
There are some general factors to look for in a massage chair like
Build Material – Opt for massage chairs with faux leather material as it lasts longer than real leather.
Silent Operation – Make sure the massager makes less noise while in operation.
Cup Holder – Most machines have it.
Portability – Check whether you can move the massager chair from one place to another easily using casters.
Brand Name – Popular massage chair brands in India are JSB, Robotouch, LifeLong. They provide the best quality and good after sales support. So, choose only the top brands.
Budget – The massage chair price in India is quite expensive and can range from Rs.50000 to Rs.3,00,000 depending on the brand and number of features provided.
Warranty – Most massage chair machines in India come with a minimum 1 year to 5 years of warranty on the product. Some also provide a 30-day return policy if you don't like the product.
10.Does the Massage Chair Come with Safety Features?
Generally, the electric massage chairs are completely safe to use for shorter duration like 15 to 30 minutes at a stretch, maximum 2 times per day.
However, if you intend to use it for more time, your muscles can get overworked or bruised.
And, it is highly advised not to allow the children to use a massage chair without parental supervision.
Lastly, remember not to place the power cords underneath the massage chair as it could cause damage to you or the product.
Massage Chair FAQs
1.Which brand of massage chair is the best?
The top 3 best massage chair brands in India are JSB Healthcare, RoboTouch and LifeLong.
2.What is the price of a massage chair in India?
The best massage chair price in India starts from Rs.50000 and goes up to Rs.3 lakhs depending on the brand value and features.
3.How do you buy a massage chair?
You can either purchase the massage chair from a local gym equipment store or order it online from the Amazon.in website.

You'll also get some discounts when you purchase it from the online store by using the occasional offers, which might not be possible when you get it from the offline vendor.

Either ways, you'll get the same warranty period and after-sales support for offline/online purchase. So, don't worry. Check the prices both online and offline and choose the best deal.
4.Is massage chair good for health?
Yes, the massage chair is good in treating chronic back pain, muscle pain, stress and getting relaxed. But, always use it in moderation.
5.Can I use a massage chair everyday?
Yes, you can use it everyday but limit it to 15 to 30 minutes, not more than 2 times a day.

Though the massage chairs do good to you by promoting blood circulation and relaxing your muscles, prolonged use may lead to inadvertent results.
6.How long should you sit in a massage chair?
For best results, use a massage chair for 15 to 30 minutes every day.
7.Are massage chairs dangerous? Who should not use it?
People with serious, unhealed wounds, infectious diseases, broken bones, circulatory ailments, skin issues are advised not to use the massage chairs without medical supervision.

Everyone else can safely use them, but in moderation.
8.Do massage chairs use a lot of electricity?
Not really. A typical massage chair consumes anywhere from 200 to 300 watts depending on the quality of the product.
9.How long do massage chairs last?
Typically, a higher end massage chair motor lasts up to 5 to 10 years, while the medium and low-end models will last about 2 to 3 years.

It also depends on the specific individual, frequency of use and type of treatment.
10.How efficient is the heat therapy in the massage chairs?
The heat therapy provides relaxation to the muscles by producing enough infrared heat that is evenly distributed throughout the body or certain targeted areas.

There is also the auto-shutdown option that prevents the massage chair from overheating, thus keeping you safe.
11.Is it safe to use a massage chair while pregnant or breastfeeding?
There are no reported effects of using a massage chair while pregnant or when implanted with a pacemaker. However, it is advised to seek your doctors help to be on the safe end and even if OKed by the doctor, spend no more than 10 to 15 minutes per day.
12.How much space do massage chairs need?
Most massage chairs require the same space as a recliner sofa. They take up about 33 inches in width.
Final Words:
Dealing with daily stress, pain and anxiety is pretty simple now with the full body massage chairs.
Anybody in your family starting from young children to elderly people with chronic pains to simple body aches can get benefited from using these best full body massage chair machines.
It is not just a luxury device but also comes with many health benefits.
So, consider it as a one-time investment to live a healthy life and make less visits to your doctor.
And, lastly, do not just consider the looks or appearance of the massage chair as the features and quality is what defines the best massage chair in India.
Feel free to ask your questions or doubts regarding the zero-gravity massage chairs and we'll try to answer them.